Origami is an Asian art of paper folding. A folding diagram below is a step by step instruction.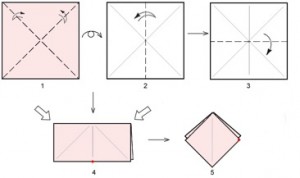 The diagram illustrates the mathematical concepts involved in the folding: geometry of square, rectangle, and triangle, line and angle, size and fraction. The folding also develops reasoning skills such as comparison and deduction of the shapes and sizes. Origami is a creative and mathematical activity.

Origami Math Genius (OMG) is a curriculum developed for integrating origami art and math in K-12 education. It is to develop every child into an OMG!
Watch the video below to see a demonstration!
Gull Wings Children's Museum brings OMG program (class and video) to children and teachers in our community at no cost. Funding is critical to sustain the OMG program. Please help children learn. 100% of designated OMG donation goes to the program and is tax deductible.

For additional information on OMG, please visit http://www.bijian.com/omg.html
If you wish to make a donation to the OMG program, please specify in the "order notes" box during check out.