Tricky Tuesdays! (Every Tuesday this month!)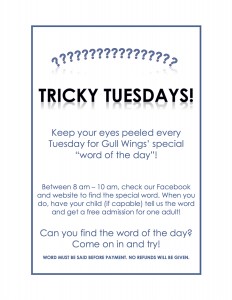 We've got something new about and fun for you starting this month!

Every Tuesday there will be a word of the day somewhere on our website (hunt for it!) and on our Facebook. But here's the trick! The word will only be up from 8 am – 10 am. If you miss it, you'll have to wait until next Tuesday! So don't miss it! If you find the word of the day and get your little one (if capable) to say it, you will get a free adult admission!
Write a letter to Santa and a soldier! All day Saturday December
12th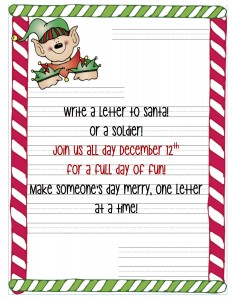 Come in all day December 12th for a day full of writing! Help us
write letters to Santa and to our soldiers overseas! Tell Santa what
you want for Christmas, he just might make your wish come true! Or
say happy holidays to a soldier, it just might make their day! Don't
miss out!
Free child ID! (10:30 am – 1:00 pm | Saturday,December 12th)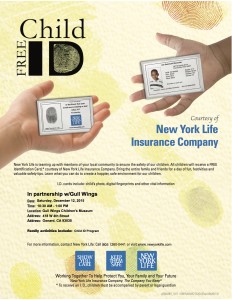 New York Like is teaming up with Gull Wings Children's Museum to ensure the safety of our children. All Children will receive a free ID, courtesy of New York Like Insurance Company. Bring the entire family and friends for a day of fun, and valuable safety tips. Learn what you can do to create a happy and safe environment for our children.

*This event is free with paid admission*
CLOSED ON CHRISTMAS EVE AND CHRISTMAS DAY (12/24 & 12/25)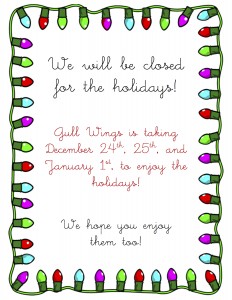 Enjoy your holiday! We will reopen on Saturday December 26th.
OMG! (Outreach program)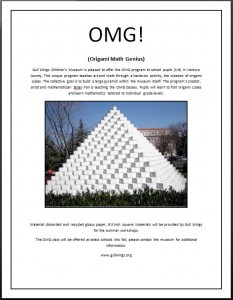 About:
OMG was created by artist and mathematician BiJian Fan. Before he retired, BiJian worked as a mathematician for Amgen, located in Newbury Park. He is a great friend to Gull Wings Children's Museum (GWCM) located in Oxnard, CA.
Earlier this year GWCM was awarded a grant to support Bijian Fan and the OMG program within the museum and in our local schools. Because the program is supported by the grant, we are able to offer this program to select schools for free during the Fall 2014 semester. Based on additional funding, it is our hope that we will be able to continue the program beyond the Fall semester.

Purpose:
The purpose of this program is to teach a variety of different levels of math utilizing art. The program can be customized by the faculty to reflect their current math curriculum. Depending on the grade level, the program is flexible enough to include all students grades K-8.

Supplies:
Classes should collect discarded and recycled glossy paper. Heavier magazine pages have worked best. (More details will be provided; amount, ect…)
The cubes will all need to be the same size. BiJian has requested that the pages be cut to 8.5 inch squares. The reason for the symmetry is that a giant floor to ceiling pyramid will be constructed from the children's cubes within the museum itself, symmetry will be very important.

Program:
BiJian will teach the children to fold the paper into origami cubes. This is a multi-step/multi-paper creation. Throughout the folding process, children will be instructed in the appropriate level of math; geometry, angles, etc… Please see: http://www.bijian.com/omg.html
At the end of the program, we would like the children to write their names on their cube! Every cube is important to the construction of the pyramid, and so is every child!
*We are still discussing the creation of the pyramid itself. One idea is to invite the children and their families to the museum the following weekend to partake in adding more cubes*

Development:
We are currently searching for schools/programs interested in participating!