A LOOK INTO THE FUTURE
As a preview of exciting programs to come as we move forward, the Museum will be holding a special activity every day starting on December 22, 2015! The schedule for all of these exciting programs is as follows: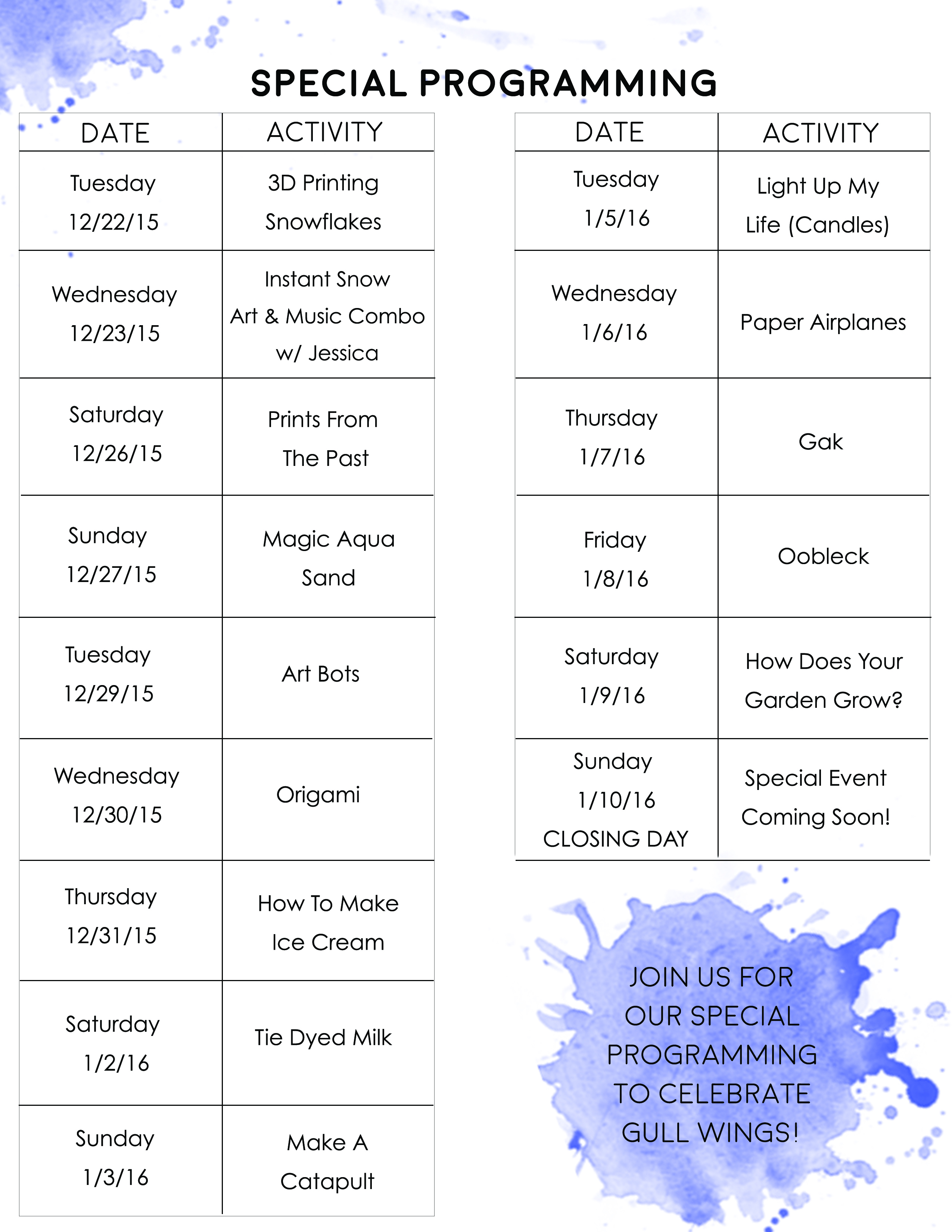 Time: 10 am – 12 pm
12/22/15 – 3D printing snowflakes: Have you ever heard about 3D printers? This workshop run by CSU Channel Islands will show you how 3D printers can be used to make colorful, fancy plastic snowflakes.
12/23/15 – Instant Snow: Add a little water and this powder grows and grows to look like snow!
12/26/15 – Prints From The Past: Learn how fossils form and take home your own model fossil in clay.
12/27/15 – Magic Aqua Sand: It's not like the sand you find on the beach! This sand really does not like water. Use it to build interesting structures under water!
12/29/15 – Art Bots: These jiggly, swiggly little robots draw pictures for you.
12/30/15 – OMG! Origami: It's paper folding invented in China a long, long, time ago. Become an Origami Math Genius (OMG!)
12/31/15 – How do you make ice cream?: It's colder than ice! See how you can make delicious ice cream that you can eat using a mixture of salt and ice.
1/2/16 – Tie Dyed Milk: Swirly twirly colored milk! Explore how colors mix when they are added to milk!
1/3/16 – Make A Catapult: Launch ping pong balls into the air with a catapult that you build and ca take home!
1/5/16 – Light Up My Life: Learn all about candles and what makes them shine!
1/6/16 – Paper Planes: It's a bird, it's a plane! Learn how to fold paper into shapes that can fly!
1/7/16 – Gak!: See how white glue can become an icky sticky glob that you can take home!
1/8/16 – Oobleck!: Is it a solid or a liquid? Oobleck behaves like quicksand!
1/9/16 – How Does Your Garden Grow?: Learn about how plants grow by planting a seed and taking it home to watch it grow!